Cycling to work through London. 8 miles each way and plenty to take in. Cyclists leaving the train station starting from cold. Balancing the desire for a brisk tempo to generate some warmth with eyes and brain that adjust slowly to the early morning darkness..
Traffic is sparse and good tempered at 7am – no-one is late yet.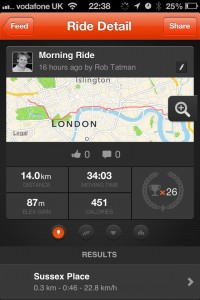 The park is full of runners, fitness clubs, walkers. Cycle lanes busy with the sounds of derailleurs, chains, sharp intakes of icy morning air and occasional bells warning errant pedestrians.
It's the traffic lights where you notice it. Cyclists are not immune. The jostling for prime position, ignoring a red, taking a shortcut on the pavement. To gain an advantage. Over whom? Or what?
I know my PB. 34:03 in the morning and 40:19 in the evening. I know my average speed. The app on my phone tells me when I have set a PB for the ride or for one of the segments. Sometimes it tells me I am "King of the Mountain". Ha! In London.
I can't help wondering how many of the daily commuters I pass are also watching the clock. And how this alters our behaviour in subtle ways. The tight overtake, squeezing through a gap, the token indication manoeuvre.
Personal Best – it feels like a misnomer. Personal fastest – yes. But what about personal safest? Personal happiest? Most enjoyable? Most scenic? Smoothest? Fewest lights? Least traffic? Most variety? Most smiles from taxi drivers?
What you measure is what you get. Be careful out there.