Outdoors kit that I use regularly and recommend to others 👌
Emergency Bag
Vital for DIY/solo adventures. Often on the mandatory kit list for races.
The SOL Emergency Bivvy is so light (~100g) and small that there is no excuse not to carry; it always lives in my bag when out in the mountains.
✅ Waterproof ✅ Windproof ✅ Heat reflecting ✅ Rip resistant ✅ Small and light
Best £20 insurance policy ever. Hope not to use it but one day it will come in very handy for you or others.
NB: Not to be confused with its far inferior cousin, the emergency BLANKET, which will turn into a cape or fly away in the wind, and not keep you warm and dry.
Head torches
Head torches have come a long way in the last decade. Brightness, coverage, and battery life are now superb. If you are still using your 10-year-old Petzl Tikka, then it's time for an upgrade!
Both the Petzl Swift RL and NAO+ are awesome. For long overnight runs (+6 hours) then go with the NAO+ for battery life. Otherwise, the Swift RL is great; lighter, cheaper, easier to charge (micro USB). I've never noticed any difference in brightness, even though the Swift RL has 900 lumens vs NAO+ 750 lumens.
For a tiny, super-light emergency headlamp I use the Petzl e+LITE. It's not bright enough for night running but it's way brighter than your phone torch, will last longer, and has strobe lighting to help you be seen. A great backup e.g. when mandatory kit means you need a backup light but you want to save weight (and are happy that you won't be able to move fast with it).
Nut Butter!
Chafing… When you are doing really long stuff and your legs are properly sore the last thing you need is avoidable pain 'down there'. The item that I am often most pleased to see in my mid-run drop bag 😉
Cohesive Bandage
Super-versatile. Stretchy. Sticks to itself. Grips well on skin and hair. Comes in a long roll so you tear it with your hands to any required size. Quick and easy to use.
Two main uses; 1) compression/support for strains and sprains and 2) to secure dressings.
Recently came in very handy for dealing with a head injury following a fall onto rock; quickly kept the pressure on the dressing which would have otherwise been difficult to secure. 😅
Get a nice wide one (7cm+) like the Boots one below.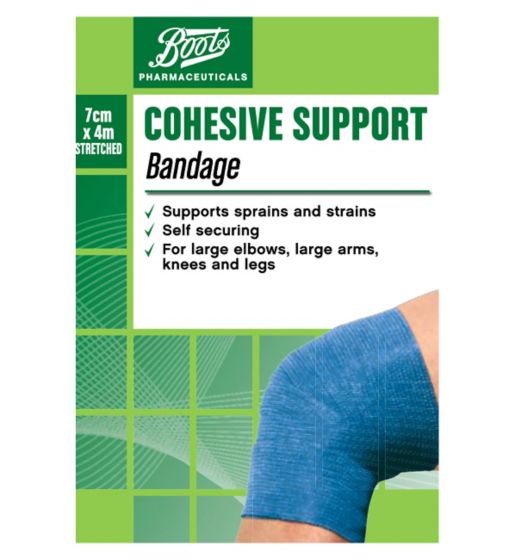 And yes, if you are out in the hills regularly and haven't been on a first aid course in a while… do it!