I neglected this blog while travelling largely because we didn't have a laptop, a decision I regret as per this previous post. Wordpress.org does have an iOS app but typing on a small touch screen feels like I'm pecking away like a chicken.  The process of writing doesn't have any flow for me using a smartphone.  Plus I like to see the words on a decent size page after I've finished.
Anyway, back in England now.  New year.  New intensions.
First, a post-rationalisation on why travelling is both enjoyable and useful [Full disclosure: I love travelling]:
I always learn new things, meet new people, and appreciate new perspectives.  Benjamin Disraeli said that travel teaches toleration. Travelling in South America certainly provides ample opportunity for practicing tolerance;  forced encounters with both locals and fellow backpackers with differing opinions and values, misunderstandings due to linguistic and cultural differences, questionable food hygiene, unreliable transport, and terrible, terrible toilets.  There really is no alternative than to exercise patience and tolerance in these situations.
Another reason I love travelling is the mountaineer's refrain, "Because it's out there."  I'm curious about the world, its people, its geography and its geology.  And, despite David Attenborough's excellent work, I need to experience that first hand and make up my own mind.  Conrad Gesner puts it more robustly,
"Men dull in mind find no cause for wonder anywhere; they idly sit at home instead of going to see what is on view in the great theatre of the world."
G K Chesterton reminds us of our tendency to take the familiar for granted and how a period of absence can help us appreciate our own country anew:
The whole object of travel is not to set foot on foreign land; it is at last to set foot on one's own country as a foreign land.
My dissertation research into the current thinking on problem solving approaches and personality uncovered another reason.  According to these three professors, people who have international experience or identify with more than one nationality are better problem solvers and display more creativity.  Helpful if you're trying to justify a proposed or recent (ahem) stint abroad.  While causality is difficult to prove, living and travelling overseas clearly presents numerous novel problems to overcome that we do not encounter in everyday home life.
Granted escapism, warm weather, re-charging, beautiful landscapes (new word: biophilia = love of life or living systems) are all factors but I believe the main reasons we seek new travel experiences are deeper than this.
I believe it is because deep down we understand the importance of time and space to think and reflect.  To wrestle with uncomfortable truths and regrets, successes and ambitions.  To forgive ourselves for previous behaviour and to move on.  To start some new habits.  To grow.
Our personal development tutor at Henley gave us a parting hint, "Seek dialogue and uncertainty".  I doubt he specifically meant us to strike up conversations with drunk Bolivian silver miners but, as it happens, that experience provided a rich vein of material for reflection.  Thank you travelling.  Until next time…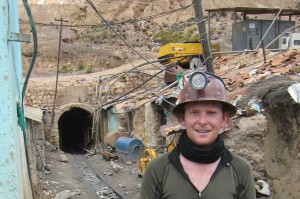 "The World is a book, and those who do not travel read only a page." ~ St. Augustine