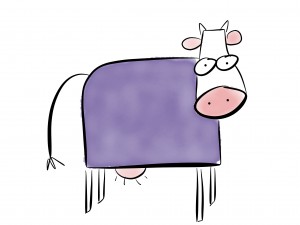 I got excited today. The supermarket had restocked my new favourite beer. I know; simple pleasures.
So what's the story? Isn't it just water, hops, malt and yeast? Yes and no..
The lads at Brewdog in Scotland understand Seth Godin's purple cow; finding a way to stand out, to be the purple cow in a field of monochrome Holsteins.
Brewdog stand out through both product and marketing.
Their Punk IPA has an almost ridiculous amount of hops in it. It slaps you in the face when you try it. Masses of bitterness and a grapefruity finish. Delicious. Not unlike Thornbridge Jaipur.
Then comes the marketing. Check out the bottle label.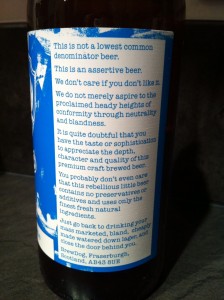 The website is littered with swearing and jabs at, "the corporate beer whores crazy for power and world domination."
It's a bit much for some but that's the point. "We don't care if you don't like it" is a refreshing stance in an industry dominated by high-volume, appeal-to-the-masses brands.
When your product becomes a commodity, you have nothing left to compete on except price. As Seth says, the problem with the race to the bottom is that you might win.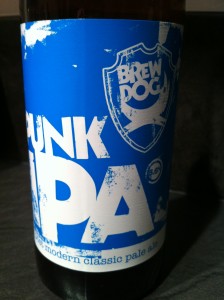 So Brewdog have chosen to say "no thank you" to a large part of their potential market. Or have they? Maybe it was never their market anyway. These guys aren't institutional shareholders of BigBrewingCo plc trying to squeeze an extra 0.5% profit. They are Martin and James, two guys in their twenties who are really into craft beer.
In focusing on others who love craft beer and mocking the rest they strengthen the identity and loyalty of their fans. Sound familiar?
I convinced the wife to stop into their Glasgow bar one evening last September as we were passing.  If Willy Wonka did beer!  Silly names, innovative mixtures, and spot-on execution: from the oak-aged 18.2% Tokyo stout to the 1.1% Nanny State.
The barman had exceptional product knowledge, talked us through loads of free samples, and was a genuine enthusiast. And we weren't beaten up for being English.
Now that's a purple cow.